Tréning - Connecting the Dots. Nonviolent Action for the Planet, Each other and Ourselves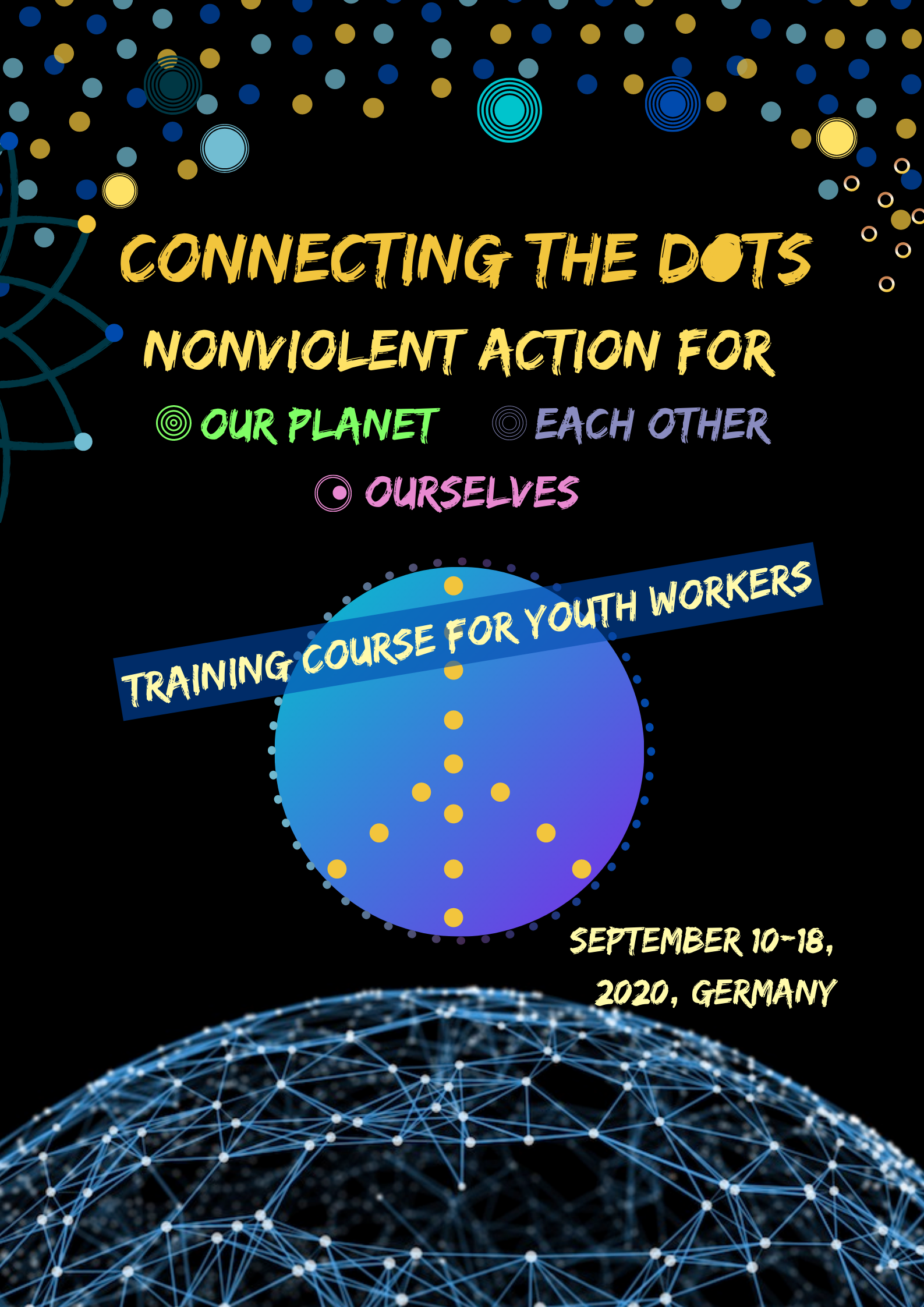 Connecting the Dots. Nonviolent Action for the Planet, Each other and Ourselves.
September 10-18, 2020 in Germany
Participation is bound to participation fee, which must be paid to us (Együttható Egyesület) and to the organizers (Peace Power). Participation fee: HUF 10,000. Participation fee for the hosting organisation: 50 euro
The selected participants' presence is required at the preparatory meeting prior to the program.
The program founded by the E+ program.
Introduction: This project is about nonviolence on a social, interpersonal and personal level. Now that violence against nature has reached a point where extinction of humanity is a possible future expectation, it is urgent to question the extent to which violence is normalized in Western cultures. The Intergovernmental Panel on Climate Change reported in 2018 that we only have 11 years to experience catastrophic climate change (i.e. drought, forest fires, floods and food shortages) by changing our lifestyles. So it is urgent that we change our behavior radically, but for that we need a change in our thinking and in our culture. With Connecting the Dots, we hope to change people's thinking and show they can do something for the future and how. We activate youth workers who in turn activate young people to work together for a peaceful and sustainable culture. We will do this by training youth workers in nonviolence on three levels: personal, interpersonal and socially. This means: 1. developing emotional resilience through self-awareness and self-compassion, 2.constructively deal with conflicts and facilitate respectful dialogue and 3. actions for a peaceful sustainable society. The participants gain knowledge and skills through non-formal learning methods. So the training will improve youth work in Europe, where partner organizations are located. Moreover, it fits within Erasmus+ because the values of tolerance, inclusion, human rights, freedom, participation and responsibility, are part of the curriculum. The aim of our training is to provide knowledge, skills and an overarching framework to activate youth workers and empower youth to contribute to a sustainable peaceful culture. The objectives of this training to enable youth workers to: 1. empower young people and strengthen the emotional resilience of young people and themselves. 2. Prevent violence, resolve conflicts, and facilitate respectful dialogue. 3. guid youth groups in cooperation and strategic organization for peaceful societal change. 4. exchange knowledge and support each other, so that they can improve their work in the short and longer term, continue to develop themselvesand make an ever greater impact. This is measured with a self-assessment questionnaire before and after the training.
What expenses are covered? Your accommodation and food are entirely covered. We ask a participationfee of €50 that has to be paid at least 2 weeks in advance to confirm your space. Your place will be given to someone on the waiting list if we don'thave it on time. For participant's travel from Poland, Czech Republic, Hungary, Italy or Spain to Greece there is a reimbursement of maximum €275 , which will be paid back to you after the training. If your costs are lower, this is what you receive, if they are higher you won't receive more than the limit. For participants from the Netherlands or Germany who have to travel more than 100km the reimbursement is maximum €180 and for short distance max. €20
What are the selection criteria? We are looking for 20 people that are youth workers, such as socialworkers, group leaders, trainers/ facilitators, employees of Non-Governmental Organizations, activist groups, etc.. We seek to have diversityin terms of social position and privilege, by including youth workers that aremembers of ethnic or cultural minoritiesin their country of residence, orconsider themselves having fewer opportunities due to economiccircumstances. Besides looking at this profile, we also consider:
1. high level of motivation to learn more about the topics of the training,
2.opportunity to implement new skills and practical suggestions to do so,and
3. prior experience in mediation or conflict resolution.
Organiser: Foundation for Active Nonviolence, Netherlands (aka "Peace Power")
Partner Organisations KOBIETY.LODZ., Poland PATRIR, Romania Shelter international e.V., Germany Brno Connected, Czech Republic Associazione Centro per la Pace Forlì, Italy EGYUTTHATO/ Co-efficient, Hungary
Number of participants: 20 From Hungary: 2-3 people
More information:https://peace-power.org/connecting-the-dots-2020/
How to apply?
https://docs.google.com/forms/d/1k4w3SJ58EslH-20RmzGQ_qV417Qg-FyZMo8s1Txmex8/viewform?edit_requested=true
How long can you apply? - As soon as you can :) until next Sunday 9th of August, 2020
tréning
Erasmus+
KA1
training