Call for volunteers | EVS in Hungary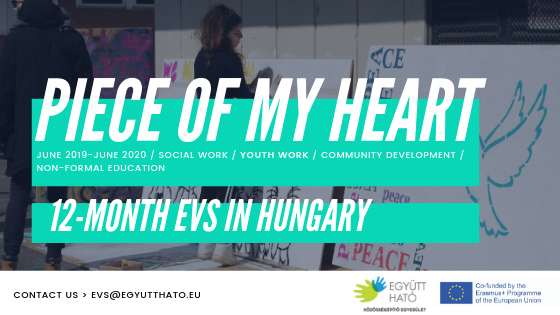 Click to see the infopack
We are looking for 6 volunteers from Erasmus+ programme countries to join our afterschool HatásPont ("Impact point") which is located 80 km from Budapest in Gyöngyös. Gyöngyös is situated at the foot of the Mátra mountains and the afterschool in the centre of the town. It is an inclusive environment for children with different abilities and ethnic backgrounds.
Volunteers' tasks: running workshops and other activities in the afterschool, tutoring children, community development work at local organisations in Gyöngyös.
Volunteers are provided: accommodation, food vouchers, transport to Hungary, insurance, Hungarian language courses and mentoring.
Find more information in the infopack and contact us evs@egyutthato.eu if you are interested in participating.